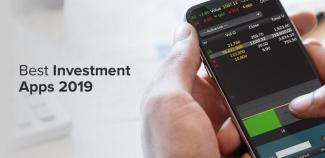 Best Investment Apps 2019
Technology!  You either love it or hate it – and judging by global trends, you can bet your bottom dollar its here to stay.  Technology has certainly made our lives a lot easier and simplified tedious tasks and processes that would usually take a few days to complete.  We literally have the world at our finger tips. 
This got me thinking about the finance industry and how its changed.  The approach to investments and retirement has changed and is now met with young professionals who are keen to plan and optimize their futures. 
As you can imagine, the new generation turn to technology for answers and of course, all smart phones have one common trait.  That trait is Apps.
Whether you're into monitoring how many steps a day you're walking or downloading the latest audible book, there's a definite market for investment apps.  I've done a bit of homework and wanted to share my findings on the more popular investment apps available in 2019.
According to NerdWallet, Investment apps are growing to become one of the top options for new investors to get involved in the stock market. And even experienced investors may find opportunities to save money and improve their portfolios with one of the available investing apps.
TD Ameritrade -

https://www.tdameritrade.com/home.page      
Fees:  $6.95 per trade
Account Minimum:  $0
Promotion :   60 days of commission – free trades with qualifying deposit
What it's all about:   TD Ameritrade is a robust trading platform and may even be more than the new or average investor needs.  They have a strong client service philosophy and a relatively simple platform to learn.  I have used their app and web based platforms and tend to prefer accessing their services on a computer given how much they have to offer.
Here are some points to consider regarding their app, service, etc.
Large investment selection.

Free research.

High-quality trading platforms.

No account minimum.

Good customer support.
Higher costing broker-assisted trades.
E-trade -

https://us.etrade.com/home  
Fees:  $6.95 per trade
Account Minimum :  $500
Promotion:  Up to 500 commission-free trades with a qualifying deposit
What it's all about:  E-Trade has long been one of the most popular online brokers, largely because of its easy-to-use tools.  They offer a tiered commission structure that favors frequent traders but can be more expensive for casual investors.  They are well known and have spent a lot on making sure their app is user friendly but I would argue are still utilized more by active traders who have experience.
Here are some points to consider regarding their app, service, etc.
Easy-to-use tools.

Large investment selection.

Excellent customer support.

Access to extensive research.

Advanced mobile app.

Reduced commissions for frequent traders.
Higher commissions for low-volume traders.

Minimum balance requirement for active trading platform.
Robinhood -

https://robinhood.com/    
Fees:  $0.00 per trade
Account Minimum :   $0
Promotion :   None
What it's all about:  Robinhood is truly free and there are no hidden costs to use the app. You'll give up a few things in exchange for free trades such as — trading tools, research, education, investment options beyond stocks and ETFs — but if limiting costs is your No. 1 concern, Robinhood is a solid choice.  For the investor just starting out this may be a more appropriate app to start with.  It is simple and straight forward and may just be the tool to get you to start investing.
Here are some points to consider regarding their app, service, etc.
No commissions on stock trades.

No account minimum.

Streamlined interface.
No retirement accounts.

No mutual funds or bonds.
Stash -

https://www.stashinvest.com/              
Fees :  $1.00 per month
Account Minimum :  $5
Promotion:  Free for the first month; retirement accounts free for people
under age 25.
What it's all about:  Stash's goal is to help beginners learn how to invest, and that's what it does best. The app asks new account holders a few questions to determine risk tolerance and goals. It serves up a list of suggested stocks and ETF's, narrowing the options to those that make sense for the user's financial situation.  At $1 a month for unlimited trades and then once you hit an account balance of $5,000 you pay just 0.25% a year.  The app makes it easy to start with a small amount of money and does give you some personalized ideas, although limited, while helping keep the fees low.  Not a bad option to consider.
Here are some points to consider regarding their app, service, etc.
Low minimum deposit.

Low fees for smaller accounts

Simple to use interface.
Limited type of account options.
Remember, there are always risks and rewards when it comes to investing your money.  Be cautious before downloading an app and make sure you do your due diligence before committing to using one with your money. 
In a nutshell, the Pros of Mobile trading offer some great benefits.  Looking beyond the point of being able to trade on the go and stay engaged with your portfolio from virtually any place with an internet connection, all the real-time trading information you seek is but a few taps away if you choose the right app.  These apps also make it easier for new investors to start saving for the future.  They may not be the perfect solution but hey, if one of these apps gets you started then you can call that a win!
With all this information available at your fingertips, it's important to make sure you're not tempted to make rash investing decisions you'll later regret.  Think about it, using an app is convenient but it also could lead you to making snap decisions about your money that may not be in your best interest.  It's your money so be thoughtful before investing your hard earned dollars.
If you would like to chat to me about investing and what my be the best way for you to get started or improve what you are currently doing, then I encourage you to get in touch with me to have an initial conversation.  There's a lot of information available and it can be quite daunting if you're not a seasoned investor.
I encourage you to get in touch with me via phone or email for a complimentary, no obligation conversation.
Thank you for reading this post, If you have any questions regarding my services, please feel free to contact me here.
Thank you for reading!
Cheers,
Derek Notman