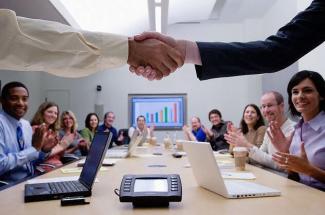 Corporate Culture and Company Values - How Culture Can Impact The Value Of Your Business
After years of building a value-driven and successful business all while nurturing a strong culture within your organization one should question the value of that culture and will it remain intact if ownership changes?   
You may be contemplating selling your business or looking for capital and find yourself being slightly concerned.  There are enough horror stories of unscrupulous buyers and investors and what becomes of the business upon conclusion of a deal.  Should you be concerned?  Unfortunately, yes – very much so in fact.  The latest research suggests in excess of 70% of business combinations never meet their financial expectations and fail due to a cultural mismatch. *  How do you go about finding a workable solution and ensuring post-exit integrations don't fail due to culture disruption?
At Intrepid Wealth Partners we have worked with hundreds of entrepreneurs, business owners, executives and their families.  We understand what the unique challenges and opportunities that come with starting, scaling, and eventually exiting a business entail.  As a Certified Financial Planner® I can assist you by leveraging highly customized solutions to help you preserve and grow the wealth you have created while being aware of how it all fits together, including the culture you have built.
Social Capital
Taking control of your social capital may ease truths that culture is a value killer.  Most buyers and sellers seem to be at a loss when it comes to effectively measuring, aligning and integrating culture before, during and after transactions. 
Perhaps the way to approach this is by asking some questions like:
What is a happy ending?

What does a happy ending look like for you?
Every company is different and has diverse needs, whether they're strategic, capital liquidity or shareholder liquidity.  There is no definitive answer and the way to approach this this is to create a wish list based on discovery and dialogue of outcomes, that if achieved, would make you happy.
Company Mission, Vision and Values
Understanding what satisfies your company's mission, vision and value is not a simple process.  It may also not fit perfectly with what is available in the market.  An iterative approach, which is a process for arriving at a decision or a desired result by repeating rounds of analysis or a cycle of operations would usually be undertaken. The objective is to bring the desired decision or result closer to discovery with each repetition. 
An employee stock ownership plan (ESOP), which provides liquidity and allows the company to fully retain its purpose and culture, can be a challenging structure for funding a high growth company.  Perhaps it's a partial sale or a full sale to a values-aligned private equity firm, which will allow the company to continue business as usual.    
If electing to sell to a strategic company, perhaps a different approach should be considered.  According to research, the major reason business combinations fail is due to faulty integration and the number one reason integrations fail is due to the importance of culture being overlooked.  Quite simply put, the two organizations didn't click.  Culture and values are difficult to manage in one organization, so you can well imagine what bringing two cultures together would be like.  Address these alignments early on in your negotiations to ensure better and more successful outcomes.
Look at companies like Sears, who have been around for a long time.  Sears went down a path of entering a variety of business sectors that were not their specialty or core focus.  Is it possible that although the deals looked good on paper they ultimately didn't succeed because they were unable to get the cultures to mesh just right?  It's hard to say for sure but I would venture to say that if the cultures of two parties aren't considered and matched perfectly that there will be a high likelihood that there will be a variety of problems trying to integrate them.
The Deal Makers
The deal makers are usually the smart people, but they're trained in tax, law, finance and accounting.  These people usually don't know the first thing about culture and values or how to assess cultural differences between two organizations that usually have cultural differences among various divisions and departments.
Over and above your finance or exit strategy, culture should be your top priority.  From the outset, the fix is to bring cultural assessment into the process. Use the cultural insights to help you assess candidates, identify cultural incongruities, inform and shape the transaction structure, and finally, to develop a thoughtful integration plan, which should begin before signing the deal.  By viewing this process through a cultural lens, you can improve the outcome.  Don't be loath to this change.  The importance of culture has its place.
By adding cultural assessments and integration planning, the path to a greater transaction success is garnered.   It increases alignment, reduces risk, and leads to deal structures and integration plans that are key to a transaction's success – creating value for the seller, the company, and the buyer or investor.
By inviting advisors to the table who know a thing or two about culture, will help you utilise the tools at your disposal.
There are even companies out there like ThirdSpace and Roe & Co. that specialize in helping companies get a handle on their company culture, not only improving their culture but putting them in a better position to grow or consider some strategic merger.
Would like to learn more about how I can help you with your exit strategy?  Then I encourage you to get in touch via phone, email, or follow this link for a complimentary, no obligation conversation.
Thank you for reading this post, If you have any questions regarding my services, please feel free to contact me here.
Thank you for reading!
Cheers,
Derek Notman