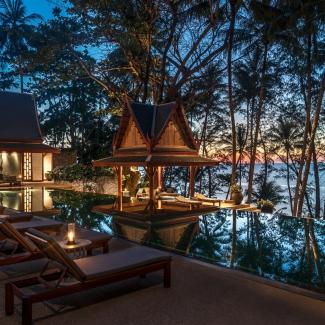 A History of Luxury & Wealth: The Aman Way
When it comes to luxury brands doing things the right way, there always seems to be two constants: attention to detail with their offering and an important story behind why they do what they do - Aman Hotels and Resorts are no different.
The Origin of The Aman Way
What is now known as one of the most prestigious luxury hotel groups in the world, Aman Resorts was born in 1988 from a simple idea from its founder, Adrian Zecha. Zecha was taking a stroll along Pansea Beach in Thailand when he came across a small coconut plantation occupying an incredible location. Soon enough Zecha and his friend built Amanpuri (meaning 'place of peace') with their own money, as no banks were willing to provide them with a loan due to the small number of planned rooms.
Image via The Peak Magazine Singapore
Today, Aman has grown to 33 sanctuary-style resorts, hotels, and private residences scattered throughout 20 countries, each with its own unique characteristics. Aman's attention to detail and the story they tell with each hotel is what separates them from several other luxury hotel groups and properties.
Discovering The Aman Way
The first Aman property I became aware of was

Amangiri

. I came across a photo of the southern Utah, USA-based hotel on Instagram and was 100% convinced that this property was located somewhere in the Middle East due to its beautiful tones of tan that resembles Egypt or Saudi Arabia.
What blew me away was the seamless transition from the design and placement of the hotel to the natural landscape surrounding the property. It looked as if the architects of Amangiri simply carved the hotel directly out of the surrounding rock formations.
Image via the @amangiri instagram
As I dug deeper into the Aman brand itself, I noticed this was a recurring theme. All of their 33 properties share that same incredible characteristic - the design of the hotel along with each of the experiences and activities that are offered are based around what makes that particular destination and culture unique and special.
Different Expressions of The Aman Way
Amangiri

is tightly connected to Utah's Native American communities, so it offers a range of one-of-a-kind experiences that bring guests closer to the culture and history of the Navajo people.

Amanzoe

is a modern-day Acropolis in Greece that offers a morning trip to the local market with the property's chef where you can pick out fresh olives and learn how to cook famous local dishes that have been passed down through generations.
You can enjoy meditating with Zen Buddhist monks at Aman Tokyo in Japan. These are only a few of the hundreds of activities you can experience while enjoying your stay at an Aman property.
Connecting each and every one of their guests with the culture and values of the property they are visiting is extremely important to Aman. After all, isn't that one of, if not the most incredible part of traveling? Experiencing the way other cultures live, learning why they do what they do, and the history behind it all?
The story Aman is able to tell because of this is incredible. They understand that at a human level, once people are able to connect with other cultures, they learn to appreciate not only that culture, but they also love and identify with their own culture more. Both cultures become more special to them. It creates an emotional connection for people.
People begin to think about their values more, their traditions more, and what makes their culture unique. What's a destination you've visited that you have a special connection to, or perhaps an incredible memory with your loved ones? Odds are that destination is special to you because of the memories you've created and associated with that city or country.
With properties in 20 different countries, Aman is able to tell this story time and time again. Perhaps someone who has lived in Tokyo their entire life visits Amanjena and learns about the Moroccan culture while sipping tea with a local Berber family, and brings some of those values back home with them to Japan. 
Or someone who was raised in the USA learns the ancient art of paper marbling at Aman Venice - which has been practiced for over a thousand years and came into prominence in Europe during the Renaissance.
These simple, curated experiences that Aman offers all work together to tell a story of attention to detail. They understand that less is more - something that the storied luxury brands understand and consistently execute on.
A Contagious Philosophy
While Aman has an incredible history and is deeply rooted in each destination's past, it is equally focused on innovation, improvement, and expansion. 7 additional Aman properties are coming soon, which will take the brand to 40 properties in 22 counties. Among these new properties include Aman New York, USA, Aman Nai Lert Bangkok, Thailand, and Amanvari, Mexico.
In addition to these new offerings, Aman is also launching its Janu brand of hotels and experiences. These properties will double down on Aman's commitment to peace and serenity for their guests. They will offer an even more elevated atmosphere of balance, relaxation, and space. In comparison to Aman, they state 'If Aman is sanctuary, then Janu is connectedness'. The first Janu property is located in Montenegro, and will be followed by properties in Tokyo and Al Ula, Saudi Arabia.
Embodying The Aman Way
I've been extremely inspired by Aman because their properties validated my beliefs and emotional connections to certain destinations I've visited. I didn't come across their hotels until I already had these specific connections - so it was cool to learn that there was an entire family of hotels that were built off the exact same principle.
There are a few additional hotel brands that are comparable to Aman. The first is Six Senses. Six Senses was founded in 1995 by Sonu Shivdasani. With an incredible focus on sustainability and curated experiences, Six Senses has been one of the most popular luxury hotel brands for the modern traveler. With properties in Asia, Europe, the Middle East, and South America, they are consistently pushing the boundaries of what it means to be a luxury hotel brand in this day and age.
Soneva is another hotel brand that is similar to Aman and Six Senses. Soneva has resorts located in the Maldives as well as Thailand. Soneva has been at the forefront of sustainable travel for the past 25 years. Their overwater villas in Maldives featuring waterslides into the ocean have become a social media hit - nearly every luxury travel influencer has partnered with this brand. Another incredible feature of Soneva Jani in Maldives is their retractable roofs of their overwater villas. With a simple press of a button, you can be fully immersed in the incredible stars right from the comfort of your own bed. A true experience that every luxury traveler must enjoy at least once in their life.
The connections and memories I have that are tied to certain destinations I've experienced (and learning that other travelers also have these special connections) were a huge reason why I am launching Jet Set Black.
Jet Set Black is a sustainable luxury luggage brand where the design and function of each of our pieces are based on specific destinations across the world. We understand that luxury travelers have emotional connections to places they've visited due to memories and experiences they have and share with loved ones across the world.
We take pride in extreme attention to detail in all aspects of our bags, and make sure to tell the story behind each piece, including the values of that destination and what makes it special. Similar to Aman, we are a brand that is deeply rooted in the rich culture of each destination, while also pushing the boundaries of sustainable luxury.
While Aman continues to expand, they will never deter from what got them here to begin with - attention to detail and an incredible story to tell. The yin and yang between Aman's historic culture and values combined with the continuous expansion, innovation, and 'never settle' attitude is what will keep Aman relevant and at the forefront of luxury travelers' minds for years to come.
That is The Aman Way.
Thank you,
Connor Keene
Founder of Jetset Black