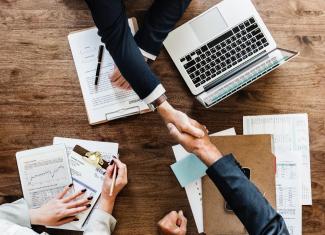 How To Find A Financial Advisor You Can Trust
In this day and age, claiming to be an expert in any given field is not that difficult.  There are many, many online resources available to enhance skills, study and obtain accredited qualifications.  But when it comes to finding and trusting a financial advisor, I'd like you to take a step back and do your homework thoroughly before deciding who to entrust your financial health and wealth with.  Don't be swayed by the temerity of an advisor who has the gift of the gab. 
I'll be outlining certain steps in this blog that will ensure your financial wellbeing is managed by a responsible financial advisor.
So, then – where to start exactly?
Personal introductions from people already using the financial advisor
This is quite obvious but receiving a referral and a personal introduction from someone who has engaged the services of a financial advisor and moreover, is pleased with their service is a step in the right direction.  Why?  Because word-of-mouth is one of the most powerful forms of marketing and building credibility.
Let's use this analogy - you go to a restaurant and the food is superb, the ambience and service are great – you would readily recommend the restaurant to your friends and family, wouldn't you?  Or even offer to take them for a meal?  The same parallel applies to a financial advisor – most of the guess work has already been done and the person you trust is assuring you the would-be financial advisor is good to go and can be trusted.
Obtain References
Just as you would with a new employee, you check their references, right?  You want to ensure the person working for your company is honest, reliable, trustworthy and certainly qualified to do the job at hand. 
The same strategy applies to seeking a financial advisor.  Do your homework!  Have a look for references and reviews on the advisor's website.  To know whether or not a financial advisor is the right fit for you, check these references and conduct telephone interviews with the referees.  If you're still not entirely convinced then schedule a sit-down meeting with the financial advisor – after all, most offer a free consultation service.
Meeting with a financial advisor, whether face-to-face or virtually, as is becoming the trend provides you with the opportunity to chat openly, ask questions and assess whether you are comfortable with the financial advisor you may potentially work with.  It is important to build a successfully client/advisor rapport as hopefully, the relationship does become a mutually beneficial one.
Either way, make sure to verify them online.  Search for them.  Check out their website.  Is everything you are finding confirming what you have been told?  If not then be cautious.
It's all about the right credentials  
Don't become a statistic of hindsight.  By that I mean, not all financial advice is created equal.  Ensure that the financial advisor you are entrusting your wealth to is certified.  Unfortunately, I believe many financial advisors are trained to "tow the line", however, few have completed any independent research to provide a basis for forming their investment opinions.
As a practicing Certified Financial Planner ® I've listed a few points on how to go about ensuring the advice you receive is accredited.
Over a decade of the right experience - Focus on someone who has experience with clients who have assets and goals that are similar to your life and financial situation.  Are you a business owner but they specialize in working with doctors?  This might not be the best fit given their lack of experience working with people like you.

A clean record - Check the disciplinary record to make sure the adviser hasn't had any run-ins with regulators or the law. You can check on sites run by FINRA and the SEC as well as state run departments to see if the advisor you are considering has a questionable past.  The links to some of these sites are below.

A CFP, CFA or CPA designation. There are more than 100 different financial adviser certifications and designations, however, I believe only three truly matter. A Certified Financial Planner (CFP) has to complete 18 to 24 months of study, pass a rigorous ten-hour exam, and work for three years as a financial planner or do a two-year apprenticeship with a CFP professional before earning the designation. A Chartered Financial Analyst (CFA) must pass three six-hour exams and have four years of qualifying work experience to earn the title. A Certified Public Accountant (CPA) knows his or her way around tax planning. Money managers will also have licenses that required them to pass tests.
How transparent are they about their fees, services, and themselves?
Some financial advisors charge a fee for services—a flat fee, an hourly rate or a percentage of assets managed and are called fee-only advisers. On the other end of the spectrum are commission-based brokers, who make money on the products they buy or sell. But these days, many brokers, who are also certified financial planners, forego commissions and charge clients a fee for their services instead. And some fee-only or fee-based advisers may make commissions on some products they sell you. That's why it pays to ask your adviser whenever he recommends a new product: Are you being compensated in any way if I buy it?
A point to note is that If an advisor is a Fiduciary, he or she upholds a standard of service that requires that the client's interests always takes priority over the interests of the advisor.
Do they have similar values and philosophies to you?
We all know communication is a two-way process and it's important to find an advisor that will relate to and understand your values and philosophies.  In my opinion, it is just as important for an advisor to ask you, the client questions, as you can learn a lot about an advisor's philosophy and intentions by considering what he/she wants to know about you.
Factors to consider are what the advisor is marketing on their website – Has thought and effort gone into the web design?  Does the service offering resonate with you?  Is the service offering a genuine, bespoke service and is the advisor talking the talk or marketing the talk?
These are important factors to consider when you're negotiating your future wealth.
I hope you found this article of value and that it helps you find the right advisor.  Like your doctor, it should be a relationship that has the potential to last for many years.
Thank you for reading!
Cheers,
Derek Notman