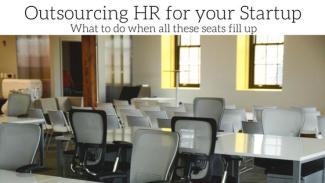 3 HR Solutions for your Startup to get the services & benefits you need without having to hire an HR manager
When you first start up your company it's probably just you and a couple of your friends grinding it out, so it is no surprise that HR isn't really on your mind.  Why should it be, you probably aren't taking a paycheck, you don't have real employees yet, and benefits, what's that?!
The plan is for your business to grow, so what happens when you do have employees?  What happens when you need health benefits, a payroll service, a retirement plan, etc.?  In the early years of a startup hiring a full time HR manager typically is just not cost effective, but you still will have HR needs and obligations.  So how do you fill these needs in a cost effective manner?
I have had the privilege of working with a variety of startups, from the very early stages to those on the brink of having an exit.  I asked the founders what they did to fill their HR needs at the different stages of their business. 
Their common solution?  They outsourced their HR till they were big enough to hire on their own HR manager.
What is HR Outsourcing?
HR outsourcing essentially is the practice of contracting with a vendor to handle some or all of your companies HR needs.  These can range from payroll services & temporary staffing to health care benefits & retirement planning, with plenty of additional services available. 
Typically you can bundle a variety of services or use a more a la carte method depending on your needs.  When meeting with an HR outsourcing vendor they should be able to help you figure out exactly what you need, don't need, to get the right services you need.
Why should I Outsource my HR?
At some point you will no longer be able to be the founder, CEO, and HR manager all in one.  As a business owner you know where your time is best spent, and more importantly where it isn't!
When you get to the point that you are spending more time doing things that are not directly driving the growth of your business then you know it is time to look for someone else to take over the tasks you shouldn't be doing.
Outsourcing your HR gives you and your business the benefits of cost & time efficiencies.  By using a third party vendor that specializes in outsourced HR services you are tapping into professionals that know the industry inside and out and how best to serve you and your company's needs.  You are also tapping into their networks to save on things like health insurance.  By outsourcing your HR needs you can devote more time and money on the core growth of your business while not sacrificing the needs of your employees.
3 HR Solutions for Your Startup
Through my research I narrowed multiple outsourced HR vendors down to 3.  I then interviewed all three to learn more about who they are, what they do, who they do it for, and their technology capabilities.
I encourage you to do your own due diligence on which HR vendor is best for your situation.  With that said I feel confident in the ability of the following 3 vendors. They were all very friendly, knowledgeable, and had a genuine passion to help businesses with their HR needs.
TriNet
TriNet is an industry leader in HR solutions for small to midsize businesses.  They were founded in 1988 and are headquartered in the San Francisco Bay Area.  They have reps across the country serving more than 14,000 companies.  They provide a comprehensive mix of bundled HR products, software and strategic services and even have a division that specializes working with entrepreneurs & startups.
They have a robust technology platform for their clients but also focus on having dedicated account managers making the relationship personal and more hands on. 
In my conversations and demo of their technology I came away being very impressed.  They were energetic, friendly, and knew what they were talking about.  It was obvious they were experienced and enjoyed helping businesses.
The QTI Group
The QTI Group has been working with startups and small to midsize businesses for over 60 years.  They are based in Madison, WI, serving clients throughout the state and Midwest.  They have over 150 employees to serve their clients. Which they can do remotely or even have scheduled days where they work out of your business.
They have experience working with companies in sectors like manufacturing & education to biotech & non-profits, not to mention everything in between.  They help businesses with everything from fully bundled HR services to one off projects/needs.
I had the pleasure of meeting with them in person.  They are a fun, dynamic, and knowledgeable group of experts who definitely have the experience to serve their clients.
Insperity
Insperity has been helping small to midsize companies with their HR needs since 1986.  They are based in Houston, TX.  They have a humble beginning, starting in a 600 square foot home-office with two employees, having grown now to more than 2,200 corporate employees serving more than 100,000 businesses across the country.
They have a flagship product, the Insperity® Workforce Optimization®, with is their premier comprehensive solution, while also being able to pick and choose from a variety of other services & products.  They are experience working with a wide variety of business types and industries.
Their technology is cloud based and just as robust at the other two HR vendors above.  Although they are capable of serving businesses anywhere from 5 to 5000 employees their sweet spot is in the 100-150 size.
I enjoyed my meetings and technology demo with them.  They too are friendly, excited to serve, and a strong resource to certainly be considered.
Do you need Outsourced HR forever?
Probably not, but maybe.
In speaking with all three vendors they all said that eventually they want their clients to become so successful that they fired them and hired their own in-house HR manager.  In other words, these HR vendors want to help you grow your business, thus at some point you simply may be better off hiring an HR manager versus outsourcing it.
These vendors certainly can stay with you as you grow, and some clients prefer using a third party vendor for HR indefinitely.  So, you don't have to hire an HR manager if you don't want to.  If anything, vendors like these can help you assess which makes the most sense for your business.
What should you do now?
If you are feeling the pains and pressure from the growth of your business, then that may be the time to consider contracting with an HR vendor.  I would encourage you to speak with vendors like these to find out more about what it costs to use them, how could they help you specifically, and is now the right time to engage their services.
What I found in all of my conversations is that none of them were looking for a quick sale.  They truly want to help their clients to do what is in their best interests.  Spending a little time interviewing vendors like these could end up saving you loads of time and money, allowing you to make sure you are getting the services you need while being able to focus more on the key drivers of growth for your business.
Feel free to ask for an introduction to these vendors.
Cheers,
Derek 
This is for informational purposes only. The ideas, opinions and concepts expressed here should not be construed as specific business advice. You should consult your business professional regarding your particular situation. The businesses listed in article are not meant as an endorsement.