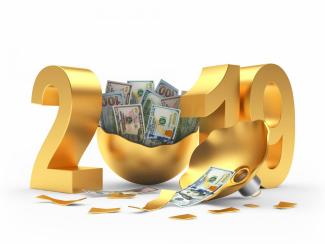 Money saving tips to help ensure financial success in 2019 and for years to come.
What is financial success to you? We believe that financial success is being in absolute control of your money and assets. Financial freedom doesn't necessarily mean being able to purchase whatever you want, when and wherever you want.  It means being able to build a sustainable future for you and your family through a meticulous, calculated financial plan.
Being wealthy is one thing but ensuring that your money lasts a lifetime is another. You cannot achieve financial success, or stability if you will, overnight, it's a gradual process coupled with a full-proof plan.
Having said that, and as the New Year is upon us, we've put together 4 money saving tips to ensure financial success for 2019 and beyond, or at the very least get the process started.
Gain control over your money
Arguably the most imperative part of ensuring financial success is by acquiring full control over your money. How can you expect to build substantial wealth if you spend carelessly? Start with these 3 sub-steps:
Where is your money going?
The best way to establish this is by looking at the past 3 months of your bank and credit card statements You then need to categorize them.
There'll be quite a bit of calculating to do but try and determine a monthly average of your variable expenses. Pair this with your fixed expenses and you'll get a good idea of where the bulk of your money is going.  
Where can you cut back?
If there are any areas where you are overspending, such as entertainment, dining and holidaying, then determine where you can cut back and plan to do just that – be mindful.
Prioritize
If you have any debts such as a home loan (mortgage), hospital bills or student loans, prioritize to pay these first, because the sooner you're out of debt, the sooner you can start to build true wealth.  
Give yourself an allowance
Once you've determined these first 3 sub-steps, you can then set yourself an allowance. It's almost like paying yourself a salary out of your own overall monthly income. This is guilt-free money that you can spend on whatever you please. If you don't spend it all, carry it over to the next month.
Savings and Investments
One of the primary and most integral methods of setting yourself up for long-term financial success is through saving and investing. You don't need to be earning millions in order to do this successfully, it's more about using what you've got in the smartest way possible – maximizing your wealth through financial planning.
Once you have gained control over your money, you can save and invest intelligently and productively.
This can be done by focusing on the three following aspects:
When you have an elaborate financial plan, you then afford yourself with a strategy to help you make practical financial decisions in all areas of your life. If you follow this plan religiously, you then provide yourself and your loved ones the greatest possible of achieving life goals and sustained financial security. 
We believe that by using a "Results by Design" financial planning process, you will stand the best chance of attaining this. What it does is focuses on specific results, and through the design of your plan, allows us to foresee and forecast which solutions are best suited to your situation. We essentially help you establish realistic goals.
When you take advantage of investment management processes, you will stand a better chance of meeting your investment goals.
By approaching this properly, you can effectively maximize your returns while minimizing risk & taxes.
This needs to be designed around your return objectives, risk profile, and the tax status of your accounts. 
Portfolio Investment & Retirement Income Planning
Creating a stable income is imperative for attaining true financial freedom, especially for individuals that are well on track to retiring in their 30's, 40's, or 50's.  
A steady income requires a precise blend of your current income and future growth, while minimizing your risk & taxes.
This can be achieved through robust tools like portfolio construction & retirement income projection software, so that you don't have to try and do it all yourself. This is the beauty of technology. This software allows us to design custom income solutions that are low cost, efficient, and incredibly flexible.
If you approach these steps attentively, you will set yourself up for a financially stable future. It's 2019, hit the ground running and ensure your financial success!
Wishing you and yours all the best for the New Year!
Thanks for reading,
Derek Notman