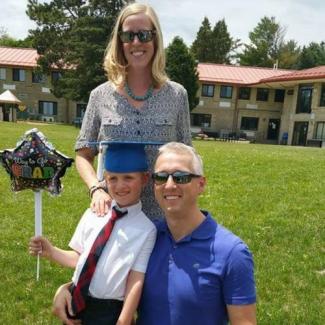 How to leverage money you're already spending  to save for your kids' education
Entrepreneurs have a unique challenge when planning for their children's college education while also starting and scaling their business.  
Should they start saving monthly in some type of college savings plan?  
Should they focus on growing their business and use future excess cash flow to education expenses?  
Or should they do a combination of both?  
Given how different one founders' situation can be from the next there really is no silver bullet to ensure a child's education will be paid for in the future.
I have had the college savings conversation many times with founders that have children.  They all want to plan ahead for their kid's education, but how they do it is based upon their unique situation and certainly requires some customized planning, which is updated regularly.  However, in my research on how to help entrepreneurs save for their children's education I came across a way that we all can use, a way that we can leverage money we are already spending, that will help save money towards those future education expenses.
Upromise
Upromise is a college savings plan sponsored by SallieMae to help people save for college by earning cash back on money they are already spending on a variety of things from buying groceries to travel.  If you have been following my blog, you may have read my post on skymiles and how entrepreneurs can leverage money they are already spending on free & discounted travel, so when I found this Upromise program to save for college education with money we are already spending I had to check it out!
I signed up for the Upromise account here, it's free, to start saving for my son pictured below.
Next, you will need to register credit cards you are spending money on so you will get credit for your spending.  I registered both my personal & business cards, why not get as much cash back as I can!
Now, search through their extensive list of approved partners where you can get cash back for things you are already buying.  Their marketplace is quite extensive so make sure to look through it for places you are already spending your money at.  The cash back offers range from a few dollars to around 10% of the purchase price, so depending on what you are buying these cash back offers can all of a sudden add up to real money!
The money you earn through their cash back offers can be use as follows:
Deposited into a 529 college savings plan
Deposited into a savings account (possibly eligible for up to a 10% annual match)
Sent to pay down existing student loans
Request a check to be mailed to you
Thus you can use your cash back rewards in virtually any way you like.
Upromise & Skymiles:  An Example of Leverage using the Platinum Delta SkyMiles® Business Credit Card from American Express
Ok, so all this sounds great, and it is, but what does it actually look like in practice?  The following is a general example, based upon my own spending, on what you could accumulate from leveraging the Upromise & Skymiles programs at the same time.  Keep in mind that this is just one example of many.  You could be spending your money online for personal expenses, going out to eat, school supplies, computers, recreation, gift cards, and the list goes on.  The point is that you should be doing this, it doesn't cost you anything extra and you now are actively putting money away for your child's education.
► Let's say I am spending ~$30,000 a year for office and business travel expenses.  For simplicity sake let's break that out to $5,000 on office expenses and $25,000 on travel (air, car, hotel).  See the breakdown of spending and rewards below.
Upromise Cash Back
Using my Platinum Delta SkyMiles® Business Credit Card from American Express I earn the following:

5% cash back on Vistaprint office expenses (assume $1,500) = $75 cash back
10% cash back on Staples copy & print (assume $1,500) = $150 cash back
5% cash back on 4INKJETS ink & toner (assume $1,000) = $50 cash back
5% cash back on Quill.com general office supplies (assume $1,000) = $50 cash back

Total Cash Back = $325 (which can be directly contributed to a college savings account for your child)
Delta Skymiles
Using my Platinum Delta SkyMiles® Business Credit Card from American Express I earn the following:

1 mile for the $25,000 I spend on office expenses = 25,000 Delta Skymiles
2 miles for all flights booked with Delta (assume $20,000 in airfare) = 40,000 skymiles
1 mile for my Hertz car rentals (assume $2,000) = 2,000 skymiles
1 mile for my Starwood Hotel stays (assume $3,000) = 3,000 skymiles

Total Skymiles = 70,000 Delta skymiles (equal to at least a $700 flight anywhere Delta flies)
Leverage Works
Bottom line is that you would receive a total value of over $1,000 worth of cash back and skymiles from money you were already going to spend!  You can use it to help fund your child's education while also being able to enjoy some traveling with your family now.  Just imagine how this can add up if you are running a business with significant expenses.  
And let's not forget how you could leverage your spending even more by taking advantage of the credit card bonus offers out there like I talked about in the Skymiles post.
Upromise, Skymiles & Financial Planning
We all spend money for a variety of things for a variety of reasons, so why not incorporate it into our financial planning so we can have more fun and get more out of our money now and in the future?  Money is an idea, it is also a tool.  Learning how to leverage it can have so many benefits for you, your family, and your business.  
Happy Spending,
Derek
This is for informational purposes only. The ideas, opinions and concepts expressed here should not be construed as specific business advice. You should consult your professional business professional regarding your particular situation. The businesses listed in article are not meant as an endorsement.