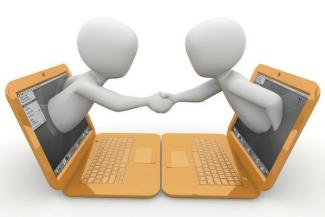 The Virtual Financial Advisor
Why personalized online financial planning is the new normal.
Technology has had a positive impact on many industries.  Improved connectivity, better access to information, faster service, etc.  It is now starting to really make a difference in the financial & investment planning industry, one that is way overdue for change.  A new wave of virtual financial advisors is coming, are you ready for it?
Our communication, for personal and business use, has progressed from hand written letters delivered by the Pony Express, to telegraph and telephone, to the dreaded fax machine, then to email, and most recently things like Skype, Slack, FaceTime, Google Hangouts, etc.  Each of these technology advancements disrupted industries during their time.
It is not hard to grasp that people who use things like Skype and FaceTime for personal use are now starting to use it to get personalized online financial advice from the comfort of their own home or office.  It is not surprising really, people are busy, so if they can leverage technology to get the advice they need in an efficient manner, then why not?
Online Financial Planning
Traditionally people have had to find their financial planner through a referral from a friend, accountant, attorney, etc. or maybe even an online search.  Then meeting with a couple of them, all at different times and at different locations to see if they are even a good fit.  This process is disjointed and time consuming.  Most people are already apprehensive about discussing their personal financial situation with a stranger, add to that all the work it takes to just find a financial advisor, it is not surprising that most people just don't want the hassle of looking for one.  The downside is that they put off their own financial planning.
Financial advice should always be personalized.  In the 13 years I have been a financial advisor I have never come across two clients that had the same exact needs.  Although there is a place for services like robo-advisors, their scope and abilities are limited.  Solid financial advice should be administered through a qualified financial advisor (Certified Financial Planner®) that can have an open dialog with you.  It is important for them to learn your hopes, dreams, and goals as these are the things that should and will drive the financial decisions you will make.
Getting your personalized financial advice online is simply doing it through a digital medium.  If done correctly the quality of the advice should not be compromised at all, and if anything, more can be achieved since the whole process is more efficient.
The Virtual Financial Advisor Model
Working with a virtual financial advisor online does not mean the value, quality, or personalization of the advice should be any less than working with one in person.  However, by leveraging the network of digital communication mediums like video-conferencing, screen sharing, etc. a financial advisor can still deliver top notch advice and service from a distance. 
Working with a financial advisor means sharing with them some very personal information.  Thus, building trust from the first point of contact is crucial.  Sharing your information, talking about your financial planning, investments, insurance, and conducting review meetings can all be done virtually, but only if the digital infrastructure is in place.
Advisors using the online financial planning model tend to use a variety of digital platforms (e.g., online financial portals, video-conferencing services, data aggregators, cloud-based filing systems, etc.) to simplify and improve the client journey.  Like in tele-health, just because financial advice is being given via a digital medium, does not mean that the advice is compromised in any way.
3 Pillars make up this model:
Dedicated remote advice

Each client has a real, dedicated "human advisor" they build a relationship with and to help them as needed.
Location independent

Instead of having to meet with an advisor at their office, or have them come to your home, virtual financial advisors can work from anywhere, thus making it much easier and more convenient to meet with clients when it works best for them.
Digital implementation

Virtually (pun intended) the entire process from the initial meeting and onboarding through implementation and ongoing service can be done digitally.
Do not confuse this model with a service center, that takes inbound inquires for mostly service related items.  Although some financial services companies have higher caliber call-centers that are even staffed with licensed advisors, most are not dedicated to any clients, thus you tend to speak to a new person each time you call in and have to tell them all over again what you are trying to accomplish.
The digital advice model is comprehensive, usually with a dedicated financial advisor (or team of advisors) for each client.  Working in this manner offers a more robust & efficient value proposition for certain segments like the mass affluent and high net worth markets that are adopting this model more and more.
The Client Value Proposition
A virtual financial advisor can offer meaningful and significant value to clients. 
The exponential advance of digital technologies has allowed financial advisors to work remotely while still providing personalized, face-to-face, financial advice to their clients.  By working in this manner financial advisors are able to offer the same, if not better, financial advice while cutting their overhead expenses and "windshield" time.
Working in this manner empowers advisors to offer top-notch quality advice, on the client's terms.  Let's face it, people's lives get busy.  The virtual financial advisor model can offer much greater flexibility for meetings during evenings and weekends.
Since this model allows clients to receive consistent advice, from a dedicated person, regardless of location, I have found there to be additional appeal to people who travel a lot (like me), people who have relocated (like me), those who own a business and are extremely busy, and those who appreciate (or even prefer) the convenience of working with an advisor in a virtual manner.
The efficiencies of this model benefit the advisor with lower overhead and more time for clients, which can be passed on to the client in the form of lower fees for investment management and financial planning without losing any quality of the services.
Virtual Doesn't Mean "Never in Person"
By now I hope you can see the value of working with a virtual financial advisor.  But let's face it, humans are wired to connect with other humans, not computers.  What I have seen is that although most of the client-advisor relationship can be done virtually, the in-person meeting still caries a lot of value.  Although I have the technology and infrastructure to work with clients virtually anywhere, I still frequently meet with clients in person and given the right circumstances will fly anywhere to meet with a client or potential client.
I have clients that I have never sat in the same room with, yet we work very well together and know a lot about each other, chatting about our kids, vacations, etc.  I also have clients where the majority of the work we do is done virtually but we still try to meet in person from time to time.  It helps keep the relationship strong and there simply is no replacement for a face to face meeting.
When you are considering working with a financial advisor, online or in person, make sure you find out how they operate, how often you can expect to hear from them, what it costs to work with them, and the value you will get in return (see my previous post; The Value Of Paying An Advisor For Financial Planning & Investment Advice for more information).  You may find that working in a virtual manner is much easier and more comfortable for you, and if you know you can still meet in person with your advisor when necessary, it would seem like the perfect combination of digital advice and human interaction.
Thank you for reading this post, If you have any questions about what it is like to work with a financial advisor virtually, please feel free to contact me here.
Cheers,
Derek Notman