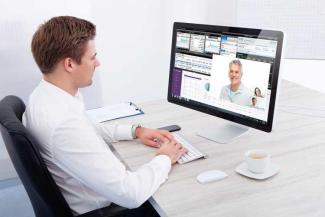 Working With A Virtual Financial Advisor
Most of us are quite adept at navigating various online platforms and apps on our mobile devices.  We readily indulge in making online purchases and I mean, why not – its convenient and we don't need to navigate busy shopping malls and finding time to shop.   We have the ability to shop in the comfort of our homes!
The term Virtual is also used a lot more these days and it makes sense for people to work from home and offer their services remotely.  Who wouldn't want to work in the cosiness of a home office?  There's no traffic congestion to contend with and instead of spending unnecessary hours commuting, one can start working relatively early in the day.  With the technological advancements, it makes absolute sense to work remotely. 
Small businesses, in my opinion reap many benefits such as reduced overheads for renting office space, parking fees and utility bills.  Employees can login at an agreed time and have a daily staff meeting over video call to ensure everyone is aware of their duties.  Basically, the lines of communication are always open.
This brings me to the topic of working with a Virtual Financial Advisor.  It's prudent to mention that 'Virtual' is not to be confused with artificial intelligence or robotic technology.  The idea of working with a virtual advisor is the fact that you're still working with a human being.  The only difference is that the face-to-face meeting is usually done on a video, or a telephone call.  I talk about this "new normal" in my blog post, The Virtual Financial Advisor.
The fact that I have built a Virtual Financial Advisor practice does not diminish my service offering in the slightest.  On the contrary, service delivery and turnaround time is actually improved and in a shorter time span as there is minimal delay between travelling to and from meetings and having only a few hours to prepare documentation and proposals.
So, what exactly is a Virtual Financial Advisor and how should you go about working with one?
As mentioned earlier, a virtual financial advisor offers their services to clients remotely (using the internet) and utilizing various technological tools that make the process safe, secure, and convenient.
A virtual financial advisor provides services such as financial planning, business planning, retirement planning and investment advice. When a financial advisor utilizes the older way of doing business, clients are forced to meet in person.  For busy professionals, this is a massive time commitment and by working with a virtual financial advisor, it becomes a win-win situation as the busy professional has time to devote to running a business instead of commuting and sitting in meetings.  Working with a virtual financial advisor also eliminates the tedious task of lugging paperwork around.  All documents are handled electronically – what a pleasure! 
A Virtual Financial Advisor saves you time and money
By using a Virtual Financial Advisor, you are no longer restricted by time, adverse weather conditions or distance.  Your Virtual Financial Advisor is almost always available on the other side of a computer, at the touch a button.  This modern methodology of utilising a Virtual Financial Advisor retains the best levels of safety and personal service that customers value and expect.  All the while leveraging cutting edge technology to delivery these personal financial solutions from a distance.
As a new customer, what can I expect from working with a Virtual Financial Advisor?
There are six basic steps for a new customer as follows:
A new customer completes an introductory call via Skype, or an alternative platform like Zoom, etc. The objective of this call will be to get to know your virtual financial advisor and to discuss your goals and objectives.

The virtual financial advisor will email you a secure fact-finding discovery questionnaire that you can complete at your leisure. This is then uploaded along with statements, tax returns or other documents that are essential to your financial plan. These documents would be handled on a secure website – your peace of mind is really important!  I use eMoney to facilitate all of this.

You and Your virtual financial advisor will then have what is called a Discovery meeting.  It focuses on your hopes, dreams, and goals for the future.  This is what drives your entire financial plan.  Your virtual financial advisor will take this information into consideration when they complete an analysis of your financial information and create a financial plan that can include but it not limited to the following planning concepts:
Retirement plans

Investment management

Social Security Planning

Risk Management

Tax Planning

Estate Planning

Cash flow and budgeting
The virtual financial advisor will then schedule the next virtual meeting for you to review the elements of your plan, make any adjustments you would like to see, and to answer any questions you may have.

All paperwork will then be completed via electronic signature software.

The virtual financial advisor will then conduct regular review meetings or any other meetings as necessary utilizing phone or video formats to monitor the progress of your financial plan.
As with all facets of business, there will always be advantages and disadvantages that customer's must be aware of.  I have listed a few of the most obvious pros and cons.
Advantages to working with a virtual financial advisor
Working with a virtual financial advisor will allow for a more flexible schedule, giving you time to better manage your work-life balance.  No more having to schedule an in person meeting at your house after a long day at work!

It doesn't matter if you or your advisor decides to move to another city, state or even country.  Working with a virtual financial advisor allows you both to keep a strong and consistent relationship no matter where life takes you.

Increasingly tech-savvy clients have come to expect remote services from their financial advisor.  This is because technology saves us all time, money and makes the planning we do that much more efficient.  Put good in, get good out!
Disadvantages to working with a virtual financial advisor
Whilst technology is always improving, at times it's not always reliable and clear audible communication may be compromised.  Be prepared to have back-up plans for your meeting if the initial platform is not working.

This industry is built on trust and interacting remotely will never be able to replace the value of a firm in-person handshake – especially with older clients.

Clients want their hands to be held during uncertain times and remote meetings may not be enough to help ease a client's anxieties and fears.
If you are ready to create a financial plan for your future, not having time to available to do so is now a thing of the past.   Utilizing a Virtual Financial Advisor puts you in control of your time and your financial security.
Thank you for reading!
Cheers,
Derek Notman