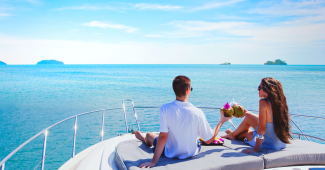 Secrets of Affluence – How to Live a Luxury Lifestyle
There is no time like the present to live your best life. After all, as a self-minted millionaire, you've earned it. The world is your playground, and it's okay to indulge in the pleasures of life.
My secrets of affluence revolve around finding the perfect daily routine, breaking bad habits and learning to put yourself first. When you put yourself first, you have more freedom and space to nurture better relationships, as you feel you are no longer compromising on your own time but instead investing in time shared.
Want to live a stress-free, luxury lifestyle that's the perfect mix of adventure and tranquillity? Of course, you do. To achieve this, you will need to find an excellent life-work balance, tilting the scales in your favor to focus on what's most important: Living life to the fullest.  You created your wealth by tilting the balance the other way, focusing on the things that made you wealthy, the challenge now is to tilt the scales the other way as you focus more on life & luxury and less on what it took to get you to this point.
Slim Down Your Schedule
Remove things from your schedule that you don't really want to do or that no longer serve you and replace them with something indulgent. A full day of pampering at the spa, hitting the greens of the best golf courses in the world, renting (or buying) a supercar you've always wanted to take for a spin… choose whatever makes you happy. This is a sure-fire way of reducing stress in your life.
Break Bad Habits
This may not seem like the most obvious part of a luxury lifestyle, but it is one of the best things you can do for yourself to improve your quality of life. When you can triumph over a bad habit, you feel more confident, accomplished and in control of how you choose to live your life. 
It doesn't have to be an overly serious vice; it could be something as simple as not eating junk food or overbooking your schedule. Don't just remove bad habits; replace them with holistic ones. The repetition of good practices can bring fulfilment to your life.
Go All Out
Splurge regularly to live your best life today and tomorrow. You've diligently accumulated and preserved your wealth, so now is the time to enjoy it. Get planning 5-star trips to new destinations of your all-time favorites or new places you have always dreamed of experiencing. Book Michelin star restaurants to taste the finest delicacies from critically-acclaimed chefs. Whatever your vibe is, go do it!
Focus inward and make yourself the number one priority. Create a list of things you wish to experience and start ticking them off. There's no greater satisfaction! Experiences live the longest in the memory and, as such, can hold significant value without an expiry date. Create the ultimate mental showreel for yourself.   
Build Better Relationships
Reach out and reconnect with those you haven't seen or spoken to in a while, but miss. Having healthy and happy relationships in your life is an essential part of a luxury lifestyle. Relationships are powerful and scientifically-proven happiness factories.
Having people that love you, support you, and on whom you can directly rely on improves your quality of life. Never in human history have there been more ways to reach out and connect: Make a phone call, send an e-mail or connect via social media.  
Retire Early 
Retiring early takes some careful planning, sure. But it also means more time to enjoy the fruits of your labor. Retiring early allows you to have a more active and enjoyable retirement as you'll be younger as you embark on it. Younger retirees can travel more extensively and engage in more vigorous recreational activities, broadening the possibilities for them.  
Buy a Private Island
This isn't as outlandish as it sounds. For the price of a parking space in New York, you can buy a private island in Sweden or Ireland and even the Bahamas. Privacy is an indispensable aspect of a luxury lifestyle, and it doesn't get more private than owning your own island.    
If buying a private island isn't for you, then renting one is an alternate option. Shared ownership is popular in Fiji, where you can buy a lease or share the lease with the freeholder of the island. This sort of ownership makes residency in Fiji possible, where otherwise it may not have been. You know those relationships we spoke about nurturing earlier? Why not take some friends to your secluded island to create unforgettable memories.
Buy a Superyacht 
Feel in control with a completely customizable itinerary when you own a superyacht. The vessel is always ready for you when you need an ocean getaway. The travel possibilities are endless, and aboard your floating home, you'll always travel lavishly. Explore the world in your own time. Now that's living in luxury.   
Stay true to your vision of living a luxury lifestyle through proper wealth management to indulge in the finer things in life indefinitely.  Managing your money should be done in a way that helps you live the life you want, not the other way round Tomorrow waits for no man: Relish in opulence and the possibility of abundant time for what you hold dear.
Sending positive vibes your way!
Cheers,
Derek Notman