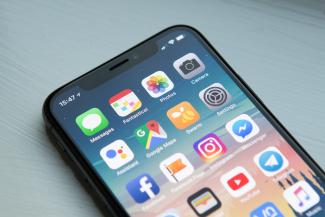 The Super Rich's Favorite Apps to Use
Thirteen years ago, there was an iOS application developed by a man named Armin Heinrich. It was called 'I Am Rich.' The application sold on the App Store for US$999.99 yet served no function whatsoever. Instead, it presented the user with a glowing red gem that, when pressed, displayed the following message, "I am rich I deserve it, I am good, healthy & successful. The next day, Apple Inc. removed the application from its App Store, which only made it even more exclusive as, at this point, only eight people globally had bought the app.
Exclusivity is undoubtedly one of the perks of a luxury lifestyle. Still, far more useful apps have been developed specifically for the rich, and I've curated a list of them. So, buckle up. You may just find your new go-to app to help you along your journey to becoming a happy millionaire.
Flyblade
Flyblade is a millionaires' Uber of the sky. The app allows users to book chartered flights in seconds, accessing an unmatched level of precision and hospitality. Tap a button to get a flight — it's that simple. Do you wish to fly helicopters, seaplanes, and jets between New York, Miami, and the Hamptons? Do you want to purchase a seat on an existing flight, crowdsource a flight, or charter a private aircraft? For all your exclusive aviation needs, Flyblade is the app for you.
Rich Kids
Forget Instagram bragging rights. The mega-rich show off their opulent lifestyles on Rich Kids, an exclusive photo-sharing network. Rich Kids is essentially Instagram for those with Lamborghinis, private planes, and who can afford daily massages for their dogs.
A $1,000 a month subscription-free on Rich Kids means you'll only see photos from other wealthy patrons. Much like the ticks representing verified Facebook and Twitter accounts, the app's monthly fee ensures that everyone who uses it is certifiably affluent. On the app, you'll find rare coin dealers, the scions of prominent real estate families, and a Russian heiress or two.
There's nothing wrong with a bit of flaunting. After all, being rich is boring when nobody sees it. Well, that's what their Google Playstore bio says anyway.
Luxy
When dating, the ultra-wealthy make use of outlets such as Luxy, also known as the Tinder of the elite dating world. Luxy is the leading exclusive dating app and allows successful individuals who enjoy living in luxury to meet one another. To qualify for Luxy, you must go through a verification process that verifies your wealth and maintains the exclusive status of the user community on the app. Luxy is a dating network tailored for the 1 percent, a place to meet models, CEOs, celebrities, and athletes.
iVIP Black
iVIP Black is widely considered the world's most premium lifestyle app, iVIP Black gives members complete VIP treatment at all partner venues worldwide. In addition, members receive extra-special experiences like complimentary upgrades, surprise gifts, welcome packages, exclusive rates, priority access, and other unique privileges. Through the app, you can receive complimentary room upgrades at some of the most luxurious hotels in the world, book private yachts and jets, and receive invitations to exclusive events.
Sotheby's International Realty
Looking for premium real estate but want to reduce your time spent dealing with agents? Sotheby's International Realty can help. The time-saving app offers virtual tours of properties and a one-click away contact with the company's agents and brokers. They are a global company that partners with local experts to assemble a portfolio of exquisite properties all around the world. 
From Ibiza to California, Sotheby offers property rentals and purchasing opportunities befitting of luxury life. Living in magnificent places can improve your quality of time. Living your best life today and tomorrow starts with your environment, so make sure you're living in style and exploring unique locations in the process.
James Edition
James Edition is a luxury marketplace space to purchase and sell the finest things in the world. They feature pretty much everything the indulgent collector could dream of, from limited-edition superyachts designed by Porsche, the rarest and most impressive Patek Phillipe watches, to jaw-dropping European villas.
James Edition has been described as the billionaires Craig's List. This playground for the ultra-rich is famous for continuously offering the broadest selection of supercars available in the world. For example, in August 2017, they sold the first-ever-built Ferrari Sergio to come on the market for $5 million. If supercars don't impress you, some items are even more prestigious, such as Michael Jackson's Neverland Ranch from Michael Jackson, which sold in May 2016 for $100 million.
As affluent people, you already do things differently so it's only right that you use the internet differently too. Have a look at these apps, they may just help you revel in the exclusivity they offer and craft the luxury life you deserve.
Cheers,
Derek Notman